To download all photos taken from your camera on Ubuntu Touch to your desktop you will need to pull the pictures using the Android Debug Bridge CLI tool (adb).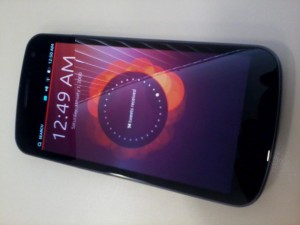 The first step is to press Ctrl+Alt+T to open Terminal and type the following command:
$ sudo apt-get update && sudo apt-get install android-tools-adb -y
After this, next step is plug your device into USB port and run the below commands on Terminal:
$ cd
$ mkdir ubuntu-touch-photos && cd $_
$ adb root
$ adb pull /data/ubuntu/home/phablet/Pictures/
Now all photos that was taken from your device will be downloaded into ~/ubuntu-touch-photos on your computer.
Thanks Gustavo Boiko for the tip and Julian Fernandes for ask me 🙂
I need to remember that Ubuntu Touch is under development, so just install it if you know what are doing.