Jorge Castro speaks about his job at Canonical, the coming Ubuntu 12.04 release, the Unity shell and juju.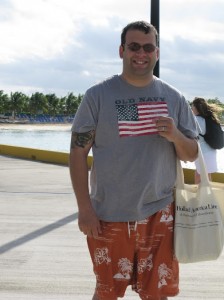 TH: Who is Jorge Castro?
JC: I'm 36 and was born in San Juan, Puerto Rico but grew up in the US, so my Spanish isn't very good. I eventually settled in the metro Detroit area in Michigan and went to Michigan State University, where I studied telecommunications.
Right know I'm living in Boca Raton, Florida for a year while my wife Jill finishes her Psychology dissertation.
Food and music are two of my favorite things; I love to eat! Mostly I listen to heavy metal and hard rock, but I have been known to be more diverse (but don't tell anyone).
TH: What's your job in Canonical and in Ubuntu Community?
JC: I'm on the community team, I work with Nick Skaggs, Daniel Holbach, Michael Hall, and David Planella for Jono Bacon, where we each have an assigned focus on what we work on.
In the past I was working on community growth around Unity, but I've recently been working on cloud and server things, mostly around our new service orchestration tool called juju (juju.ubuntu.com).
TH: What inspirated you to get involved in Ubuntu?
JC: I've been very fortunate to have been around when Ubuntu first started but my inspiration back then was the same as it is today, the people. Ubuntu itself is great, but for me it's always about the friends and colleagues around it that make it more than just a collection of software for me.
TH: Many users think that Canonical is "reinventing the wheel" when develops Unity. What you think about it?
JC: I don't think it's as much of "reinventing the wheel" as much as it's taking charge of your own destiny. In order to compete with proprietary software we have to constantly evolve and change, even if that means going into areas that we have traditionally not gone into like consumer devices.
Making a consistent experience across these kinds of things is hard, and being able to drive the experience forward from top to bottom is a good way to do this.
TH: Ubuntu 12.04: What can we expect from it by your personal perspective?
JC: I'm most excited about what's coming down the pipe for server folks. 12.04 will be the first release with [juju](http://juju.ubuntu.com), which will be a great way for administrators to quickly deploy services in the cloud. We can launch a hadoop cluster in about 10 minutes and 4 commands, it's very powerful stuff that has community sharing built in. Any one in the community can write a "charm" for juju that lets us simply deploy things. Here's a [list](http://charms.kapilt.com/charms) of things you'll be able to deploy in 12.04 very simply. In the same way that apt-get is great for installing packages, juju will be for deploying services.
Also, overall this will be a great release for users as we've started to put things into play that we've never had in the past, like automated testing. Canonical has invested in great people, machines, and new processes to make quality the goal for this release.
We're deploying tools like Jenkins that tie into our build processes so that if someone lands code that breaks something, it doesn't get uploaded into the development release. So we're becoming smarter as a team about how to test things before they have a chance to turn into a bug. This is why 12.04, even as an alpha, feels so good. And this cycle is only the beginning, as we automate more testing the overall quality of every ubuntu release should improve.
TH: Leave a message to Ubuntu Brazilian users and developers.
JC: I've always wanted to go to Brazil, I adore Brazilian food, and from what I've seen Brazilians are very passionate when it comes to food, music, and Free Software. I hope to visit your country soon and have adventures!